Funky Cordoba is located in the heart of Jewish quarter, very close to the bridge of Miraflores. In the nearby Plaza del Potro can visit the Museo Julio Romero de Torres and the Museum of Fine Arts. A few steps you will find Plaza de la Corredera with its lively bars and antique shops. At Funky Cordoba we are surrounded by many typical tapas bars and trendy pubs for a drink. All in a calm and relaxed a few meters from the Mosque, in the historical center of Cordoba.
Do you know our establishments Funky Hostels? In the center of Granada, Funky Granada and Meridiano. In Fez, Morocco, feel at home in Funky Fes. You can book these accommodations from our website Funky Hostels.
Would you like to hear about some of the latest happenings or funny stories regarding our staff or our guests or be informed on a variety of events in Granada, Cordoba and Fez (Morocco)? If so, you are invited to follow our Funky Hostels blog. Also, if you have an interesting idea or even a whole article that you would included in our blog, please send it to info@funkyhostels.es. We would love to see it!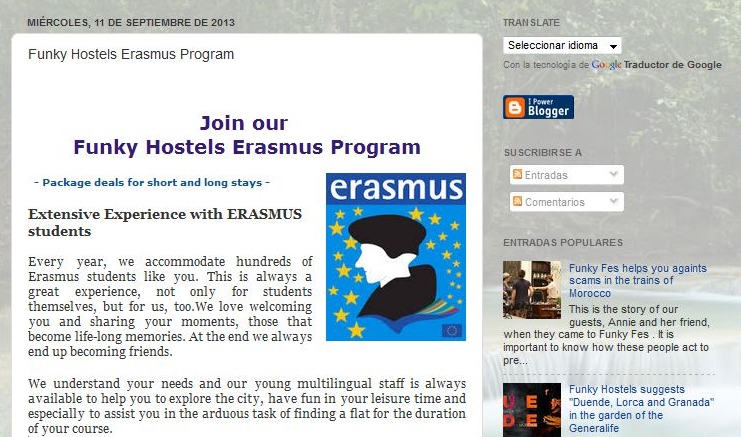 Funky Erasmus Package Deal - Short Stay prices